Profile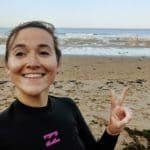 Hannah Ladd-Jones
My CV
Education

GCSEs at Swanmore College of Technology
A Levels at Peter Symonds Sixth Form College
BSc (Hons) at University of Liverpool
MSc at University of Exeter

Qualifications

GSCEs:

A* Maths
A Biology, Physics, History, French, English Lit, Chemistry and Drama
B Resistant Materials, English Lang
Distinction IT

A Levels

Biology (A*), Maths (B), Physics (B) and Chemistry AS (B)

french AS (U), but we don't talk about that…

BSc (Hons) 

First Class in Bioveterinary Science at the University of Liverpool. the highest mark possible within a degree

MSc

Merit in Conservation and Biodiversity at the University of Exeter

Work History

A Butcher Assistant – part time whilst doing my GCSE's and university holidays. The best biology lesson!

A Waitress – university holidays.

Senior Administrative Assistant for an adult social care team in Winchester – after my degree, but before my Masters. For 11 months and funded my Masters

Project Manager – after my Masters, at the university of St Andrews.

Employer

the Marine Alliance for Science and Technology for Scotland – MASTS
About Me:

I have always enjoyed learning about science and getting to speak about science, this is why i like my job so much. When I'm not at work I am often climbing or hiking in the Scottish mountains.

Read more

I'm 27 and I live in St Andrews, Scotland (an hour north of Edinburgh). I did my undergraduate degree at the University of Liverpool and graduated in 2015. I then did a year out and did my Masters with the University of Exeter in Conservation and Biodiversity. During my Masters, I lived in Cornwall.

I wish I could own a dog but my weekends are so busy I don't have time!

My Work:

I work for a marine science team in a Scottish university, and I get scotland based marine scientists talking about their work!

Read more

Communication is at the heart of my role.

I try to make Scottish marine science more accessible to other researchers in Scotland, for those in Scottish policy and for people and communities who are involved in the marine environment.

It has never been more important for society to be aware of the issues facing our oceans, and to do this we need to ensure those in science are speaking to other scientists, policymakers, industry, conservation charities, and members of the public.

I organise a large number of online events and webinars for all those people mentioned above. That way we can open the conversation up to those interested.

I also created 'MASTS Casts', a weekly blog that featured a variety of marine-science topics and people, such as:

a student having their first paper published
a new conservation project
academics discussing a successfully funded project.

I not only provide information and practical assistance to speakers at these events, but I also advise on how to engage the audience. We don't want boring speakers!

My work aims to ensure scientists are advertising their work to other scientists and to help make their work easy to understand for different audiences.

My Typical Day:

I am an early riser which is really easy when it's sunny at 4 am in Scotland during the summer! It's horrible in winter when the sun rises at 9:30!

My day is full of talking to people about their research, upcoming online events or projects so my calendar is my Bible! I also check in with our social media throughout the day to do funny and engaging posts and to check mentions. I do love a good GIF.

Read more

The day always starts of with me checking my calendar, who am i going to be speaking today (and have i forgotten to do anything for that chat!). I speak to many different people so a to-do list is really important. a to do list for that day and other things i need to do in the future. I check my teams social media for any mentions, retweets and how posts are doing. I will think about what new information do our followers and members need to know?

I check in with projects we have running to ensure they're running to schedule and if there are any questions i need to answer.

Every day is different and the job is fast paced, i like these two aspects of my job.

My building is next to this beach, East Sands in St Andrews:

This is in the lab i work in ( i don't anything there though!)

What it looks like when i'm running an online event, I usually have more than two screens!

The qualifications required for this job are:

I studied biology as an undergraduate and conservation for my Master's and although I loved being part of an academic community, I knew I didn't want to do a PhD or take on an administration role.

I wasn't aware of jobs like mine when I was studying, but it is perfect for me.

I don't want to be a researcher but I love learning and talking about new research.

It's not enough to publish in academic journals; for real change to happen it's vital we open up the discourse so we can learn from each other.

It can only improve the science.
My profile link:
https://ias.im/u.295637
---
---
---
---