Profile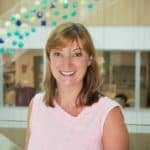 Julia Miskelly
About Me:

Im a working mum.

Love to run and walk .

Spend A LOT  of early mornings at swimming pools with my daughter who swims competitively.

My Work:

I'm the manager of the Genomics Core Technology Unit (GCTU) at Queen's University Belfast, which provides researchers with access to the latest gene-sequencing technology.

Read more

Often, a project will require certain equipment to be purchased, but when the grant comes to an end, there's no way to fund its continued use. The GTCU is like a library, where cutting-edge equipment, technology and services are brought together and made available to researchers across the university and beyond.We focus on Next Generation Technologies.

Our team of highly skilled technicians maintain and service the equipment and run the experiments. Crucially, they also provide consultation on the best technologies to use, enabling scientists to conduct internationally competitive research.

Much of our technology is state of the art, so researchers might not be aware of it. We advise on the best approaches to experiment design and can help them write their grant applications. Since, the unit was established three years ago, a large proportion of these applications have successfully received funding.

My Typical Day:

I get up at 5.00 am and take my daughter to the swimming pool for 5:45 am.

I generally look at my emails while she s swimming and set out the schedule for the day.

Im usually in  work at 7.00 am  and get some of the admin done before the team come in at 8:30.am

I start my day with team catch up ensuring everyone is aware of their workload for the day .  Ill then answer  a few more emails and arrange calls with customers who wish to discuss their projects.

I sometimes get into the lab to help the team out doing practical work.

Ill then look at up coming projects and ensure we have the equipment and reagents needed for the team.

My day usually ends around 3:30 pm ( school pick up )  sometimes going back to the pool ! If this is the case I go for a run or a long walk !!

I

Read more

The unit has established relationships with industrial and commercial partners, particularly in the agricultural sector.

Over the last year, the unit has played a key role in COVID-19 related research. We work with researchers and innovators to develop bespoke workflows, a number of which have gone on to thrive, including one for COVID-19 sequencing, which increased output and reduced cost.

The qualifications required for this job are:

I have a degree in Biochemistry and PhD in gene transcription. I've spent a number of years focussing on next generation sequencing technologies. I am passionate about the crucial role technicians play. Technical management makes major contributions to research and innovation.
My profile link:
https://ias.im/u.295635
---
---
---
---