Profile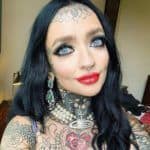 Maria Maclennan
My CV
Qualifications

Standard Grades (1, 1, 1, 1, 2, 2, 2, 3)

Highers (A, A, A, A, A, B)

Bachelor of Design (Honours), Jewellery and Metal Design

Master of Design (Distinction), Design for Services

Postgraduate Certification, Teaching in Higher Education

Doctor of Philosophy (PhD), Forensic Jewellery

Graduate Certificate, Digital Business

Professional Jewellery Diploma

Education

Dingwall Academy (Scotland)

University of Dundee (Scotland)

Qualifications

Standard Grades (1, 1, 1, 1, 2, 2, 2, 3)

Highers (A, A, A, A, A, B)

Bachelor of Design (Honours), Jewellery and Metal Design

Master of Design (Distinction), Design for Services

Postgraduate Certification, Teaching in Higher Education

Doctor of Philosophy (PhD), Forensic Jewellery

Graduate Certificate, Digital Business

Professional Jewellery Diploma

Work History

Chip Shop Girl!

Cashier, Tesco

Customer Services, Call Centre (BT)

Bar Staff (Various Pubs, Nightclubs, Festivals)

Research Assistant, Dundee University

Associate Lecturer, Dundee University,

Research Assistant, University of the Arts London

Forensic Imaging Officer, Scottish Police Authority

Academic Research Lead, Police Scotland

Senior Service Designer, Scottish Government

Service Design Manager, Police Scotland

Service Design Lead, Education Scotland

Lecturer in Jewellery and Silversmithing, University of Edinburgh

Current Job

Service Design Lead, Education Scotland

Lecturer in Jewellery and Silversmithing, University of Edinburgh

Employer

Edinburgh College of Art, University of Edinburgh
About Me:

Hello! My name is Maria and I live in Dundee, Scotland, with my two cats, Tia and Toto.

I have a secret… I'm not actually a Scientist! (But shh, don't tell anyone!)

I went to Art College and trained to be a Jewellery Designer. Now, my job involves working with Forensic Scientists and Police Officers to help identify jewellery recovered in crimes. I also teach Jewellery and Silversmithing at Edinburgh College of Art!

When I'm not working, I really love live music – especially rock music! I am also heavily tattooed – including on my face and hands…!

Feel free to ask me any questions! 🙂

My Work:

I am often referred to as the World's First 'Forensic Jeweller'.

What do you think this means?!

Read more

If you want to read a reaaaaally long answer, you can visit this link and learn a little bit more about me 🙂

https://www.eca.ed.ac.uk/profile/maria-maclennan

My Typical Day:

Sometimes I stay at home and I do lots of reading and writing – which I enjoy very much! Sometimes I fly all over the world and work in disaster zones, mortuaries, and at crime scenes!

Read more

Here is a link to some of the current work I've been doing over in Greece. This describes a typical day for me at present – it's hard to imagine a jewellery designer doing this kind of work, isn't it?!

The qualifications required for this job are:

This is a very unusual job, but having a good eye for detail definitely helps. You have to look for things other people might miss….

How I got into this job:

It was a bit of a mistake…! I was studying jewellery design, and was lucky enough to work on a project with a forensic scientist. Sometimes you have to just say "Yes!" to an opportunity when it arises – you never know what will happen!

Why did I choose this job:

I love jewellery and I love forensics, so much job allows me to do both! I am also very interested in how human beings decorate and adorn their bodies, and what this can tell us about their identity. My job allows me to study people through their jewellery and the objects they wear and carry. Which objects are special to you?

Experiences this job has given me that I might not have got elsewhere:

I have travelled the world, worked with the police, and visited lots of crime scenes.
My Interview

How would you describe yourself in 3 words?

Forensics, Jewellery, Cats!

What did you want to be after you left school?

A Teacher

Were you ever in trouble at school?

Maybe....!

Who is your favourite singer or band?

I like metal bands from the 80's (Dad rock!)

What's your favourite food?

Seafood!

What is the most fun thing you've done?

Crowdsurfed at a festival!

If you had 3 wishes for yourself what would they be? - be honest!

I like to keep my wishes a secret - just in case :-)
My profile link:
https://ias.im/u.329768
---
---
---
---