Profile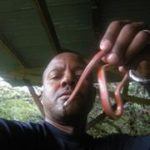 Patrick Campbell
My CV
Education

The University of London, United Kingdom

Qualifications

BSc, The University of London, United Kingdom

Work History

Senior Curator, Reptiles, Natural History Museum, London, Life Sciences, United Kingdom, 2011 – ongoing

Curator, Reptiles, Amphibia and Fish, Natural History Museum, London, Zoology, United Kingdom, 1991 – 2011

Curator, Fish, Natural History Museum, Zoology, United Kingdom, 1986 – 1991

Current Job

Employer

Natural History Museum, London
About Me:

I am a Senior Reptile Curator at the Natural History Museum, London. I take care of the world's largest collection of reptile specimens and helps scientists access it for their research. 🐍🦎

Read more

It is estimated that the Natural History Museum od London reptile collection holds approximately 8,500 type specimens.

I look after this collection and help scientists to use it for research to help improve our knowledge of reptiles.

My Work:

It's my job to take care of the reptile collection at the National History museum, preserving, categorising and building it for future generations.

The specimens in my care are a valuable resource for scientists studying things like biodiversity, evolution, anatomy and extinct species, so I talk with researchers all over the world who want to study them.

Read more

One of the more unusual projects I am  working on right now involves a desert lizard called the Thorny Devil, which is covered in special spines that collect dew and channel it to the lizard's mouth.

I am  helping architects study this clever system to see if we can design something similar for buildings in places with little rainfall.
My profile link:
https://ias.im/u.330173
---
---
---
---